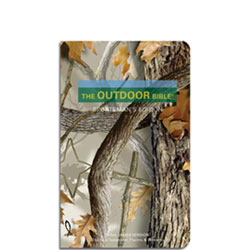 KJV The Outdoor Bible New Test. Psalms & Prov.
<br>Waterproof • Durable • Environmental • Long-Lasting
Perfect for Hunters, Outdoorsmen, Anglers and Trappers<br>Able to be written in with a ball point pen, pencil or a dry highlighter
The Outdoor Bible will give you the freedom and inspiration to take God's Word with you wherever life takes you. Combined with the timeless and cherished KJV translation, this New Testament with Psalms and Proverbs offers unsurpassed versatility and confidence to go anywhere.
Includes Sportsman's devotions and hymns.
Specs: 400 pages, 4 1/4" x 7", 7 pt font
Material: 100% Waterproof Synthetic Paper and Binding
ISBN: 9780979239434